Advantis World – Simplifying Global Logistics
Advantis World operate across a wide range of industries and sectors including global manufacturing, agriculture, transportation & logistics, leisure & aviation, power & energy, consumer goods and investment services.
Free Zone Solution provided by Advantis Free Zone
Connected with ease:
70% of all Indian transshipment cargo
Weekly sailings connecting Europe, Africa, USA far east
The only port capable of handling new ultra large container ships
The growing sub-continent:
GDP of 2.9 Trillion
Exports $325 Billion
Projected GDP growth 7%
Imports $481 Billion
7 Billion people
The process at a glance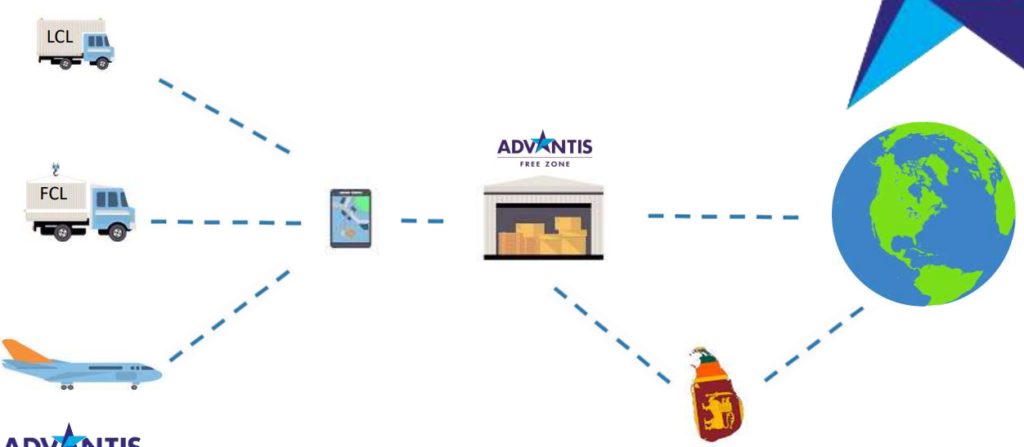 General Free Zone process flow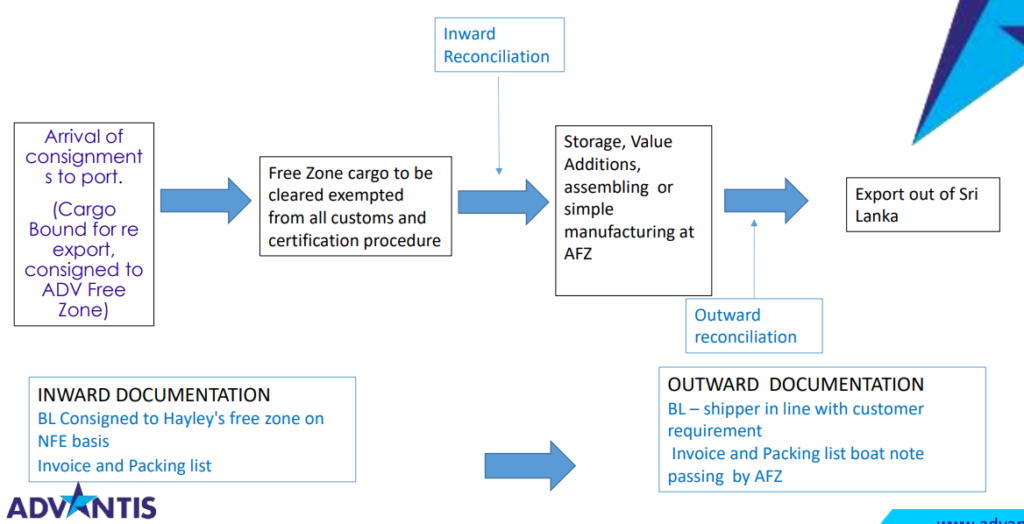 Advantages of using a Free zone in comparison to a bonded facility:
-No bond deposits
-No Customs checks or interventions resulting in delays
-No Pilferage (containers are only opened under security cameras observation at the free zone site and not at port)
-No limitation on storage time frames (subject to expiry dates of the commodities)
-No tidewaiters required to release cargo allowing for smooth stress free operations even during holidays eliminating additional costs
-Goods are stored offshore and have not entered the country allowing a customer the convenience managing rejects, unsold returns or destination changes with absolute ease (no penalties or taxes )
-Ability to Split County of origin certificates through the trade department based on the strength of the origin countries CO when splitting shipments.
-No hidden undeclared costs
INWARD CARGO HANDLING –FCL – HFZ Time Duration: From Collection of DO to directing to pre-assigned dock & unloading 14.5 HOURS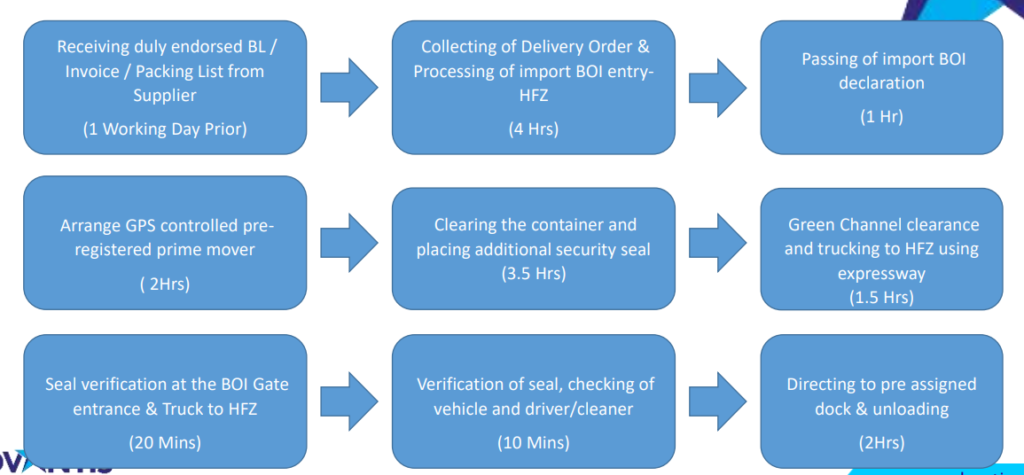 INWARD CARGO HANDLING – LCL – HFZ Time Duration: From Collection of DO to directing to preassigned dock for unloading 15 HOURS (Excluding Monitoring of De-stuffing cargo by SLPA)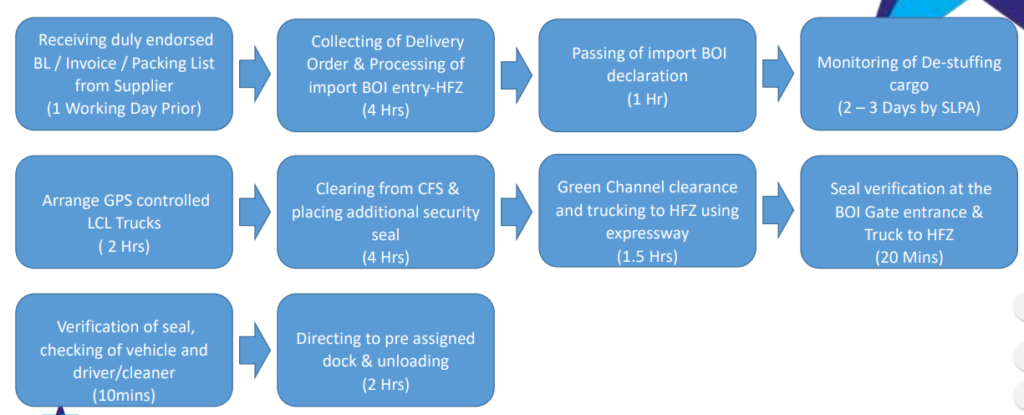 OUTWARD CARGO HANDLING – FCL – HFZ Time Duration: From Preparing of Invoice & Packing list to Discharge container in port 13 HOURS (Excluding Loading Duration)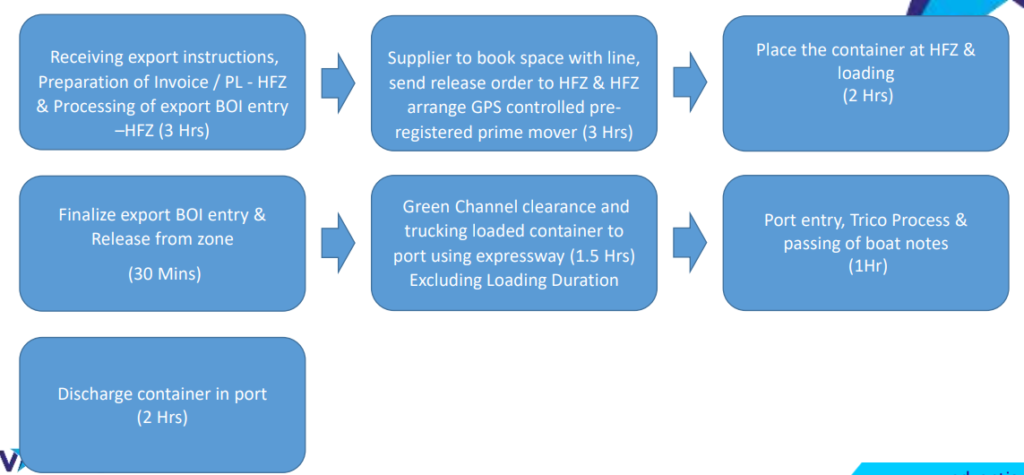 OUTWARD CARGO HANDLING – LCL – HFZ Time Duration: From Preparing of Invoice & Packing list to Discharge container in port 13 HOURS (Excluding Loading Duration)

Health, Safety & sustainability at Advantis Free zone
Fully fledged fire-fighting system. (Sprinklers/ Heat detectors/ Smoke detectors/ fire exits/ Hydrant points/ Fire rated partitioning) etc.
Blue Giant full option dock door system, ensuring utmost efficiency and safety throughout the loading / unloading operation.
Transparent roofing sheets cuts down on the energy consumption allowing the W/H to run completely on day light during the day time.
Installation of LED lights in the entire W/H makes the energy consumption more sustainable. • Fully electric MHE's ensuring a green operation.
High tech ventilating fans in the W/H area, is fully automated with heat sensing capabilities.
Advantis free zone is C-TPAT compliant operator.
Offers equal opportunities to employees while providing a safe and secure working environment.
Over 200 CCTV cameras with 100% visibility throughout the Warehouse with a centralized monitoring room with access controls allowing for 90 days of continuous video records which are accessible to client on request.
Perimeter fencing, strict entry and exit checks and security petrol's ensuring security of cargo and property.
Please click HERE to see Free Zone presentation.
Would you like to see what our members are currently up to?
Follow us and engage with us on:
About All-in-One Logistics Network (AiO):
The AiO concept is all about leveraging strengths as a group.
Every logistics company in the world has its own strong points which depend upon the professional capabilities of their people, the needs of their customers and the aims and goals of the company. That has meant that some companies might handle only one type of cargo whereas other companies are experienced in more than one type of cargo. Until now this has meant that most independent freight forwarders need to join a few networks to cover each of their areas of expertise. We have changed all that.
When your company joins AiO you have the opportunity to enroll in various specialties including commercial cargo, project cargo, international removals, perishables and exhibition freight. From these specialties we form smaller groups specifically concentrated around that exact expertise. As such you will find that you have qualified companies for all your cargo all over the world, in one network. And they are all covered under the same financial protection. When you meet these companies at our annual general meeting you will only meet companies who are working in the type cargo that is of interest to your company so you can focus like a laser beam on the markets that will make your company grow and become more profitable.
It is plain to see that AiO's revolutionary approach creates efficiencies for independent international logistics companies that did not exist before. We mean to open an entire world of freight and logistics opportunities to your company in a way that will make your customers happy, in a way that will feed your bottom line and in a way that will keep sales growing in your pipeline.