Advantis Freight Goes Mobile- An Innovative Spark in Logistics
In an era where greater emphasis is placed upon digitalization of all organizational activities irrespective of the industry, the commercial team of Advantis Freight has initiated a technology driven novelty to disrupt not only the way in which Advantis Freight operates, but the entire freight forwarding industry as a whole. The idea was driven by the simplicity of our dependency on technology based smart devices, to come up with 'A Mobile Application' to provide ultimate convenience in logistics.
The concept was highlighted in discussions in an instance of hindered innovation within the organization. It was understood that, as to become a top of the mind brand in an industry of stagnated value creation, not only service perfection was required, but innovation driven convenience too must be facilitated in the eye of customers. Accordingly, the management focused on developing an application to ensure that service offerings of the company was augmented in such a manner which facilitates timely after-sales service on a platform as simple as the mobile device of the customer.
Thus, the mobile application was initiated in collaboration with all divisions of the company, namely marketing, customer services, finance and IT playing a major role. Each and every individual's contribution towards initiating the concept was well received by the top management where the ultimate objective was to generate a value adding platform.
The fundamental purpose for them was to differentiate the service portfolio of Advantis Freight from its competitors. It was important to ensure that the customers believed that Advantis Freight was on the verge of bringing the notion of inadequate transparency of shipments to a comprehensive end with a mere tap of a digital screen. With this new mobile app, customers would be provided with the facility to view the status of their valuable cargo as and when they require.
The ultimate objective was to relieve clients from the hassle of having to go through a time-consuming process of seeking third party assistance for information while at the same time attempting to remove the marketing team's burden of keeping customers informed of shipment schedules.
Consequently, it is an organization wide belief that, that the Mobile Application would aid the elevation of Advantis Freight as a whole in the market place where competitors and customers are concerned. With this application, the aim of Advantis Freight is to empower its existing and potential clientele with a mobile based e-commerce platform to accommodate all logistics requirements should it be extracting a rate quotation to conducting an end to end operation.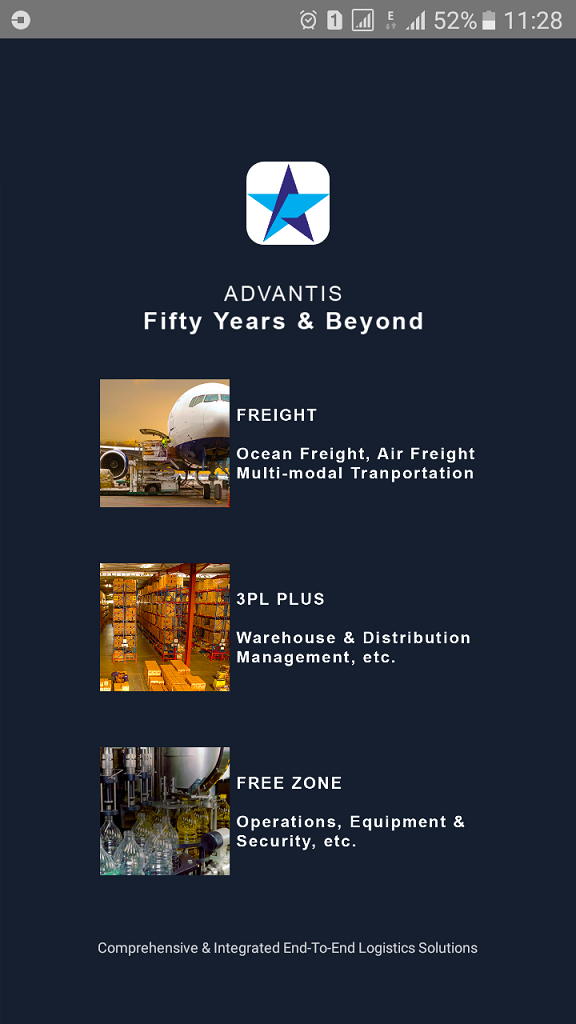 Would you like to see what our members are currently up to?
Follow us and engage with us on:
About All-in-One Logistics Network (AiO):
The AiO concept is all about leveraging strengths as a group.
Every logistics company in the world has its own strong points which depend upon the professional capabilities of their people, the needs of their customers and the aims and goals of the company. That has meant that some companies might handle only one type of cargo whereas other companies are experienced in more than one type of cargo. Until now this has meant that most independent freight forwarders need to join a few networks to cover each of their areas of expertise. We have changed all that.
When your company joins AiO you have the opportunity to enroll in various specialties including commercial cargo, project cargo, international removals, perishables and exhibition freight. From these specialties we form smaller groups specifically concentrated around that exact expertise. As such you will find that you have qualified companies for all your cargo all over the world, in one network. And they are all covered under the same financial protection. When you meet these companies at our annual general meeting you will only meet companies who are working in the type cargo that is of interest to your company so you can focus like a laser beam on the markets that will make your company grow and become more profitable.
It is plain to see that AiO's revolutionary approach creates efficiencies for independent international logistics companies that did not exist before. We mean to open an entire world of freight and logistics opportunities to your company in a way that will make your customers happy, in a way that will feed your bottom line and in a way that will keep sales growing in your pipeline.