Worldwide Logistics Launches the Xinjiang International Land Port Project and Sino-Europe International Railway Trains Project
The President of Worldwide Logistics Group, Lin Jie led the 11-person visiting group to visit Urumuqi, Xinjiang Uygur Autonomous Region, together with Mr. Maciej Libiszewski, President of PKP Cargo and Mr. Marcin Karczewski, Chairman of ATC Cargo from Oct. 10 to 12; they made an official visit to Xinjiang Uygur Autonomous Region Economy and Information Management Committee, and related leaders of Urumqi Economic and Technological Development Zone to make the further discussion about Xinjiang International Land Port and Sino-Europe International Railway Trains Projects.
As the focus of the national development strategy in China, the state strategy of "One Belt and One Road" is also the important business development direction of Worldwide Logistics Group in the future. For the very important geographic position, Xinjiang stands at the joint of the key and core of China's Silk Road economic belt and will certainly turn into be the hub and entrepot of Sino-Europe land macro-transportation; while PKP Cargo, as the largest comprehensive international rail operators in Poland and second largest in Europe, is located at the core and hub of the whole of Europe and one of main operators for Sino-Europe railway trains. As the largest container business operator in Poland, ATC cargo controls the largest railway multimodal transport network in Poland. In 2015, Worldwide Logistics Group and ATC cargo established the joint venture-Poland-Sino Logistics Co., Ltd., and vigorously expended Polish logistics business. At present, the joint venture has been the largest agency company of the Sino-Poland shipping container freight.
This time, Worldwide Logistics Group together with PKP Cargo and ATC Cargo made an official visit to related leaders of Xinjiang Uygur Autonomous Region and Urumqi Economic Development Zone, and carried out the field inspection of the infrastructure construction for Urumqi International Land Port; the purpose is to increase the multimodal transport business input, respond to the state strategy, jointly build up the high-end service brand on the Sino-Europe railway multimodal transport business by means of the advantage resources from the three logistics groups, and provide customers, who make the trade contacts between China and Europe, with the high-quality, prompt and low-cost service.
Lin Jie, President of Worldwide Logistics Group, with Mr. Maciej Libiszewski, President of PKP Cargo and Mr. Marcin Karczewski, Chairman of ATC Cargo as well as other persons visited Xinjiang Uygur Autonomous Region Economy and Information Management Committee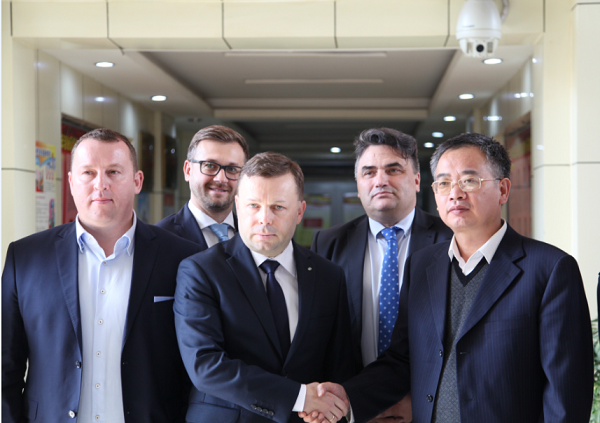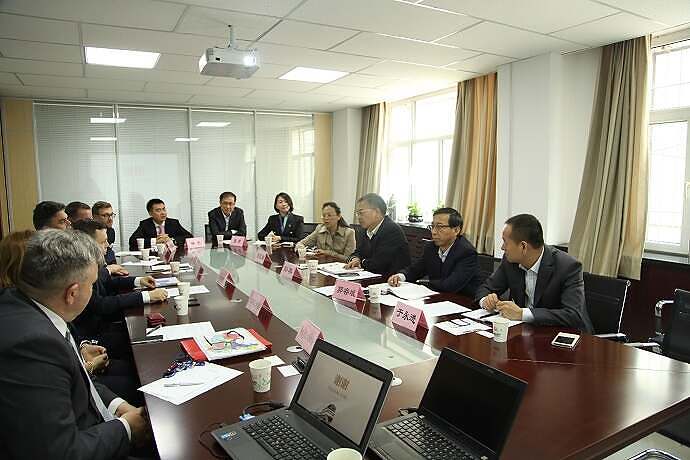 Would you like to see what our members are currently up to?
Follow us and engage with us on:
About All-in-One Logistics Network (AiO):
The AiO concept is all about leveraging strengths as a group.
Every logistics company in the world has its own strong points which depend upon the professional capabilities of their people, the needs of their customers and the aims and goals of the company. That has meant that some companies might handle only one type of cargo whereas other companies are experienced in more than one type of cargo. Until now this has meant that most independent freight forwarders need to join a few networks to cover each of their areas of expertise. We have changed all that.
When your company joins AiO you have the opportunity to enroll in various specialties including commercial cargo, project cargo, international removals, perishables and exhibition freight. From these specialties we form smaller groups specifically concentrated around that exact expertise. As such you will find that you have qualified companies for all your cargo all over the world, in one network. And they are all covered under the same financial protection. When you meet these companies at our annual general meeting you will only meet companies who are working in the type cargo that is of interest to your company so you can focus like a laser beam on the markets that will make your company grow and become more profitable.
It is plain to see that AiO's revolutionary approach creates efficiencies for independent international logistics companies that did not exist before. We mean to open an entire world of freight and logistics opportunities to your company in a way that will make your customers happy, in a way that will feed your bottom line and in a way that will keep sales growing in your pipeline.